San Francisco has consistently been voted one of the healthiest cities in the United States. It's no surprise that the health-centric location has helped bring wellness to the forefront of our daily lives, especially in the workplace. With the average American work week spanning over 50 hours, it's critical that employers are incorporating wellness into their corporate initiatives. One of the easiest ways to enhance your wellness offerings for employees? Catering, of course!
Long hours often lead to more meals (plural) at work and less time to cook wholesome meals at home. As an employer, you can keep your top employees by making them feel appreciated and fueled with food that will nourish their bodies and keep them motivated!
Here are some of our go-to tips on healthy catering and boosting employee wellness in a corporate environment:
Pay attention to dietary restrictions
More and more individuals have been trying new, trendy diets to see which will fuel their bodies most effectively for ultimate health and performance. Some of these diets include paleo, which limits carbs, Whole30, which eliminates processed ingredients and keto, a low-carb diet. You'll also have vegan, vegetarian and gluten-free employees.
To satisfy everyone during your next training, consider a taco bar. With a taco bar, you can offer various proteins, including tofu and beans. And people can choose to assemble their tortilla or create a taco salad based on their personal preferences. We are happy to craft a special plate for anyone in your group who may have multiple allergies or specific dietary preferences.
Forgo the deli platter
People tend to get bored, and variety is the spice of life. Instead of ordering the same deli platter with the same two sandwiches every time you have a meeting, switch it up! Our catering experts can suggest a variety of options to ensure you're offering new, healthy eats every time. One healthy favorite is our Mediterranean Buffet:
Chicken and Beef Kofta Meatballs
Saffron Orzo Salad with Roasted Cauliflower and a Golden Sultanas Mint Vinaigrette
Grilled Pita Served with Black Garlic Spiced Hummus (GF, VV)
Baba Ghanoush (GF, VV)
Dolmas (GF, VV)
Tofu Souvlaki Marinated with Lemon, Garlic & Herbs (V)
Baklava (V)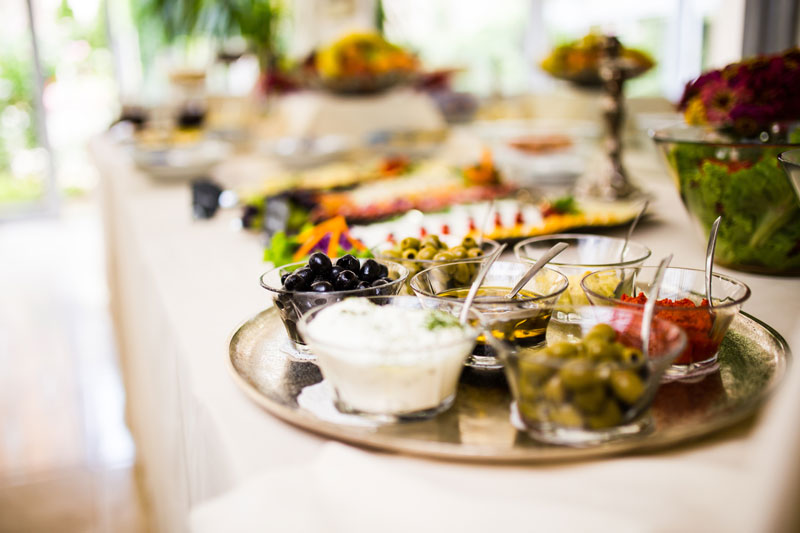 Ditch the soft drinks
Oftentimes catered meals come with sugary beverages health-conscious people are trying to avoid. Try a flavored water bar with a variety of flavored waters like cucumber mint or strawberry basil.
Remember: it doesn't have to be a special occasion!
Many companies don't think about the morale boost that can come from providing employees a healthy lunch they don't have to think about, whether or not they have a lunch meeting. Surprise them, or even better, create a corporate catering program where there are daily options for lunch in the office.
Breakfast is the most important meal
They say breakfast is the most important meal, but so many people come to work early and in such a rush that they don't leave time to eat. Consider offering breakfast a few times a week. Our California Frittata with fresh eggs, oven roasted turkey, green onions, roasted vegetables, golden Yukon potatoes and local jack cheese accompanied by a fruit platter is always a crowd pleaser. We can also set up an oatmeal bar where people can create their own bowls to start the day off on the right foot.
If you want to learn how to provide your employees with healthy options at work that will create a wellness culture and enhance the employee experience, we're here to help. Contact us today!
More Articles You Might Like: