As anyone who works in an office knows, lunch time is kind of a big deal. It's often the only time we get to take our eyes off our work. Whether it's a taco, frittata or fresh wrap, what's on a plate can make a huge impact on an employee's day—regardless of what day it is. 
We've been delivering exceptional lunch catering to professionals across San Francisco for the last 15 years. We can help you and your company create a fun themed menu that fits the day of the week and may even make you want to share it with all your friends on social. Here are some menu ideas fit for each day of the week (and hashtags to go along with it).
#MondayMotivation
Who has a case of the Monday blues? Well, give those people a hearty spread full of fresh, mouthwatering food to eat. Capture everyone's attention during your next Monday meeting or networking session with a few of these #yummy (not to mention energizing) options:
Smoked Salmon and Bagel Platter:

With slices of tomatoes, cucumbers, red onion and capers

Deli Platter:

Traditional deli-style platter of shaved Angus beef, smoked turkey breast, black forest ham, Swiss and yellow cheddar cheese served with red potato salad, green salad, house-made pickles, lettuce, sliced tomatoes, mayonnaise, mustard, assorted sliced breads and rolls, potato chips, homemade cookies and brownies

California Pinwheels:

Rolled tortilla wraps sliced in pinwheels with the following fillings: turkey, Havarti cheese and herb aïoli; ham and swiss with honey mustard; bacon, lettuce and tomato with herb aïoli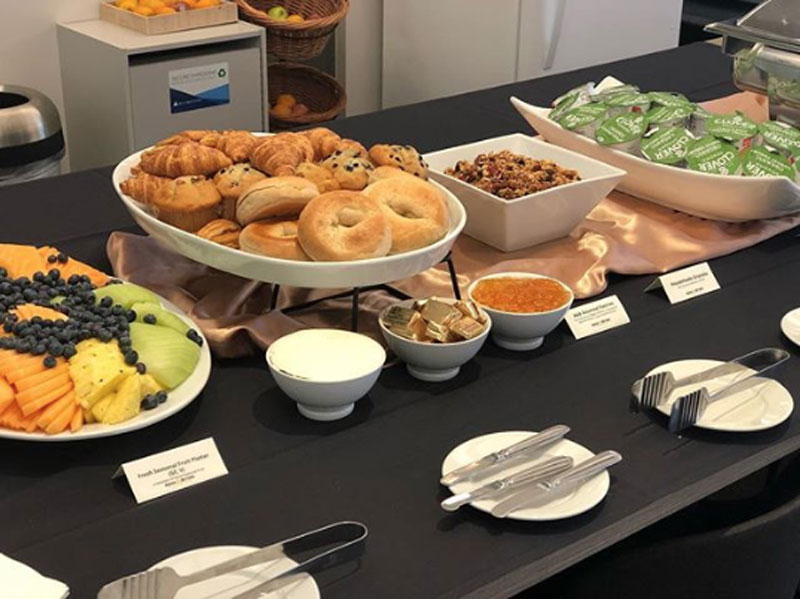 #TacoTuesday
"Taco Tuesday" has been a well-loved office lunch staple since the '80s, and the generation of today has certainly embraced it as well. We've been making hard-working San Franciscans smile with our taco bar for a while now. It features the following #delish options:
Green salad with seasonal radishes, pickled shallots, shaved vegetables, candied pepitas and cilantro lime vinaigrette 

Charred marinated chipotle lime vegetables

El pastor rojo (braised pork)

Marinated grilled chicken 

Tex-Mex rice with black beans, corn and peas

Salsa, guacamole and marinated slaw 

Flour and corn tortillas and corn tortilla chips 

Chocolate-dipped churros
#WellnessWednesday 
It's the middle of the week, and maybe your office has been hitting the snack cabinet hard. It's true—one of the biggest office lunch requests caterers get is for #healthylunch offerings. Give your team or corporate partners a healthy boost during your next midday meeting with a rejuvenating Wellness Wednesday spread featuring delicious #wraps like: 
Country Ham

: Smoked ham, French brie, cranberry aioli and baby leaf lettuce

Smoked turkey:

Turkey, hickory smoked bacon, local cheese, aioli and baby greens

Shawarma:

Petite greens, spiced cauliflower, hummus, cucumber and sun-dried tomato aioli
#ThursdayTreat
Life (and work) is all about that balance. If you're going to have Wellness Wednesday at your office, you might as well follow up with a delectable Thursday treat like our #tasty signature dessert tray featuring mini tartlets, chocolate eclairs and cream puffs. 
#FridayFood
#TGIF, San Francisco! It's the end of the week, but let's say you just so happen to be in need of lunch catering for back-to-back meetings on a Friday. Give everyone a reason to look forward to your important gathering and a nice send-off to the weekend that's ahead of them with a scrumptious Mediterranean-themed buffet featuring:
Mediterranean buffet chicken and beef kofta meatballs

Saffron orzo salad with roasted cauliflower and a golden sultanas mint vinaigrette

Grilled pita served with black garlic spiced hummus and baba ganouj

Dolmas

Tofu souvlaki marinated with lemon, garlic and herbs 

Baklava 
Bay Area's favorite lunch catering team
We are known for delivering some of the best office lunch catering in San Francisco. If you're in need of drop-off catering or planning a full-service event, we'd love to help you create the menu to match any day of the week. Give us a call!
More Articles You Might Like: