With such a vibrant culinary scene like San Francisco, it's important to communicate who you are and the experience you want to create for your clients. As caterers serving San Francisco and the Bay Area, we remain true to our name, going above and beyond for every client we have the pleasure of getting to know.
Whether you're in need of corporate drop-off or envisioning a memorable party, every client's needs are different. We can create a custom experience that fits you. At the same time, we follow the same protocol to ensure a seamless process for all events.
We put together a handy list of our most frequently asked questions to give you a better understanding of what you can expect from our team:
What are your service areas?
We are proud to serve San Francisco and the surrounding Bay Area. We can also service as far as Napa.
What's included in an Above & Beyond full-service event?
We'll help you plan an event with all your important details. Anything you need—specialty linen, platters, china or floral—we have the extra pieces you're looking for. Together we'll create a seamless process from setup to cleanup. On the day of, we'll provide you with a dedicated team of servers and bartenders who will ensure your guests have a memorable dining experience.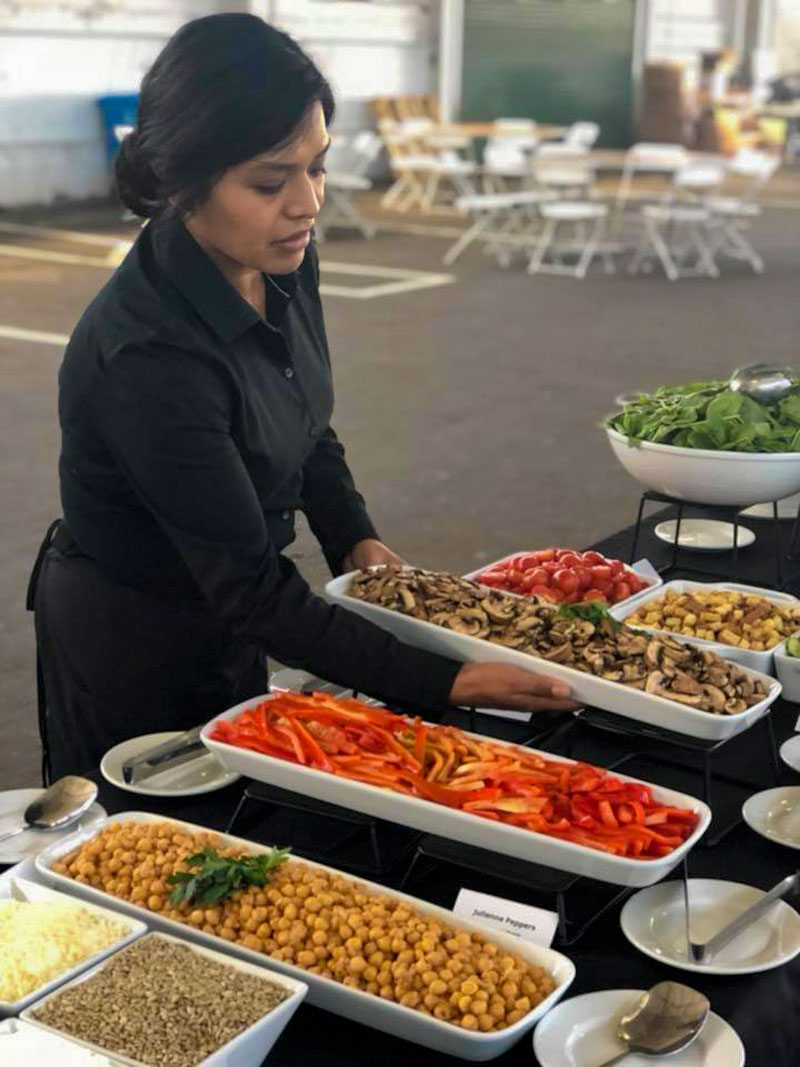 What's included in drop-off?
Black linen, white platters and chafing dishes.
How long will it take to set up my event? How long does it take for a drop-off order?
Thirty minutes to an hour for drop-off. Two hours for full-service events.
How many staff members can I have at my Above and Beyond event?
It depends on the number of guests you're inviting, but there is a minimum of two staff members when bar service is included.
Can Above & Beyond help me make a custom menu?
Always. Our chefs are passionate about experimenting with international flavors and cuisines, trying our hand out at the latest culinary trends and putting our own twist on everyday favorites. We pride ourselves in our ability to transform food into a unique experience that's reserved for every client we work with.
Can Above & Beyond cater to vegan and gluten-free dietary requests?
Absolutely. Many of our corporate clients throughout San Francisco appreciate healthy menus with fresh, sustainable ingredients. Regardless of your dietary preferences, we can create a menu that fits your event and factors in every guest.
Can Above & Beyond help me showcase my brand and logo?
Sure can. We do this very often with cupcakes, cake pops and cookies.
Our building requires caterers to have insurance coverage; do you provide that?
We do! And it covers most buildings in San Francisco.
Does Above & Beyond offer tastings?
Yes! We look at our tastings as a chance to build a relationship. We hope that we're a good fit for you and look forward to creating your event as well as any others in the future.
How far in advance do you need to book with Above & Beyond?
If the date's available, we'll make it happen. Give us a call!
More Articles You Might Like: